G0704 Deluxe Spindle Power Upgrade Kit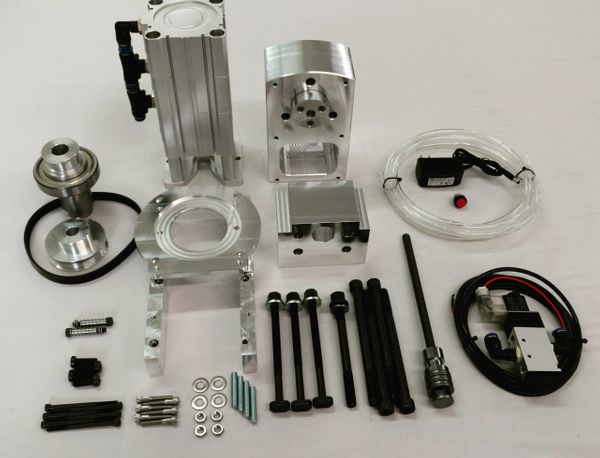 G0704 Deluxe Spindle Power Upgrade Kit
*** Now in stock ***
G0704 Deluxe Spindle Power Upgrade Kit
This Kit includes the following items to upgrade your machine:
Motor mounting plate and risers for use with a 56C or 145TC face 3-Phase AC Motor with a rated speed of 1800RPM (not included), we recommend using a 1hp - 1.5hp motor.
Poly-V 6 rib belt drive kit with balanced upper splined drive tube and new Nachi precision deep groove ball bearings installed, and both pulleys, please specify motor shaft size when ordering. This belt drive allows 6000rpm with the above recommended motor specs.
Complete Pneumatic Power Drawbar, Plug-n-Play style with power supply, pneumatic solenoid valve, push button and all wiring required. Get Ready to experience convenient fast tool changes using the TTS style tool holders.
Head and Column Spacers for your G0704 to accommodate the larger motor and power drawbar. As a benefit of the spacers the Y axis travel may be extended to accommodate 9.5", a massive improvement over the stock travels.  This benefit requires machining of the cast machine base and the use of an extended length ballscrew which we will be offering in the near future but can also be sourced elsewhere.
All hardware required to install this kit on your G0704!
Spindle Bearings are NOT included in the kit due to many customers stating they had already been upgraded.  They can be added from the drop down menu above as an option. If you would like to purchase spindle bearings from your own supplier the sizes are 32005 and 32007. We offer Nachi Tapered Roller Bearings and have found them to have the best runout (+/-0.0002") and long service life at the increased RPM.  Spindle Bearings should be greased with Kluber Isoflex NBU 15 spindle bearing grease for best performance and protection.
This kit truly transforms the G0704 from a toy to a powerhouse of a benchtop cnc milling machine. Don't let a lack of power slow down your production or limit your tool choices, Upgrade with a proven option that will help bring your part visions to life and make machining on your G0704 fun and exciting again!
Here is an example video with the belt drive conversion and 3ph motor powering through aluminum and making nice healthy sized chips!
https://www.youtube.com/watch?v=z7JMN_EYsWQ
NOTES:
This kit is for CNC converted machines and the drawbar eliminates the use of the quill.
For the Power Drawbar to have best retention we recommend 120psi - 135psi air source, 135psi will allow maximum clamping power on TTS style tools.
3-Phase motor not included with kit.
Recommended motor is 1hp to 1.5hp 1000:1 constant torque inverter duty rated motor, this motor will supply full torque from virtually 1.8rpm to 1800rpm and full horsepower to 3600rpm and with the accompanying belt drive ratio this will offer a range of 3rpm - 6000rpm with either full torque or full horsepower at the motor pulley. a few example motors are:
Y535 (1hp) Inverter Duty Motor
Y366

 

(1.5hp) Inverter Duty Motor
As a budget option the Marathon Iron horse General Purpose motors can be used, Note that these General Purpose motors have a very small constant torque rating of 4:1 and should be limited to a minimum motor speed of 450rpm.  They are Totally Enclosed Fan Cooled (TEFC) which will add a sound increase over Inverter Duty Motors (TENV) Totally Enclosed Non Ventilated.
There are other motor options available of course and even Marathon has other motors that will work in the same power range, we gave these links as easy to find and source options.
This upgrade will add substantial weight to the milling head and an appropriately sized Z axis motor should be used. For Steppers, we recommend a minimum Nema 34 900oz/in or larger motor. We also recommend the ballscrew be 20mm (2005).
If you have any further questions, please feel free to email me at: chris@smallshopconcepts.com