DrewTronics s5000LED TTS WIRED CNC PROBE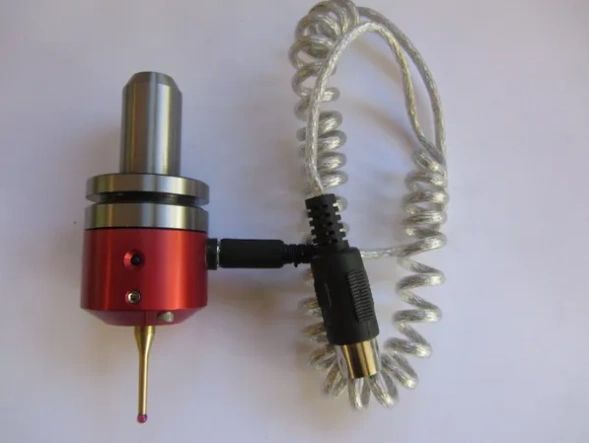 DrewTronics s5000LED TTS WIRED CNC PROBE


DrewTronics CNC Probe Solutions
The s5000LED TTS is a CNC probe design with normally closed internal switch contacts. When probe comes in contact with any work surface the internal switch opens and light comes on.  Accuracy when probing locations is ~.001 and repeat trigger ability is +-.0002".  This probe works with path pilot systems on the Tormach machines.
Connector Type Selection:
-    Choose the Tormach 5 Pin Connector Option for use with Tormach Machines 1100M, 770M, PCNC 1100, and PCNC 770 machines.
-    Choose the Universal 2 Wire Connector Option to wire to a typical cnc controller break out board for simple Input of probe signal.
Comes with Stainless Steel TTS compatible shank, 1/8 inch diameter ruby ball probe stylus.

6061 ANODIZED  ALUMINUM  NEW FEATURE!
3/4 STAINLESS STEEL TTS COMPATIBLE SHANK 
4 CONCENTRICITY SETTING SCREWS
STANDARD M3 X .5mm PROBE TIP THREAD
STANDARD 5.5mm CONNECTOR NEW FEATURE!
TORMACH 5 PIN COILED CABLE OR UNIVERSAL 2 WIRE CONNECTOR
0.250" OVER TRAVEL PROTECTION DISTANCE
For direct contact and questions, link to Drewtronics is 
HERE